School of Materials 2015-2016 Special Scholarship Ceremony
On September 20th at 7 PM the School of Materials Science and Engineering held its 2015-2016 Annual Special Scholarship Ceremony in Lecture Hall 507 of the Yifu Building. The event was attended by the SMSE Student Union, Zhang Yi (Deputy Secretary of the student group League of Lin Guanqun) and various notable SMSE lecturers. The host of the event was President of the Institute of Materials Meng Weixin, who led interviews of the 2016-year students as they held short presentations speaking about their academic lives and research efforts.
The format of the event consisted of 16 students each delivering a four-minute PowerPoint presentation regarding their respective university research, current work and future academic/professional prospects. For the 1402 SMSE Class, the highest-ranked students were expected to additionally showcase outstanding academic achievements and the benefits of a physically active lifestyle, in order to motivate their fellow students to have a good balance between mind and body. For the 1302 SMSE Class, student Shen Junyao's comments on the benefits of studying hard, receiving four scholarships and an offer from Tsinghua University for future studies markedly inspired the student audience, especially with the last sentence, "Do not give up!" which drew the most prolonged applause of the evening.
The second half of the event, student Ling Rui talked about their study routine and other habits (including setting up a whiteboard in their room), which helped succeed with classes. From the 1510 SMSE class, Mao Liangze spoke of various inspiring topics, including "clean rivers and lakes" they want to restore in China, their study habits, and even of personal thoughts about success and the importance of education.
Finally, Zhang Yi, the teacher hosting the ceremony, made a total of five points. The first point is that success comes from good individual learning habits and study plans, and that maintaining these habits is very important; the second point stressed that students should pay attention to physical exercise, adhere to personal hobbies and enrich their university life; third, students should have a broad international perspective; the fourth point was of the importance of appreciating self-help while also remembering to help others; and fifth, that despite good planning and working hard, setbacks in life are common and that they should not deter students from pursuing their dreams, so it is important to always remember one's accomplishments and be adaptive in life.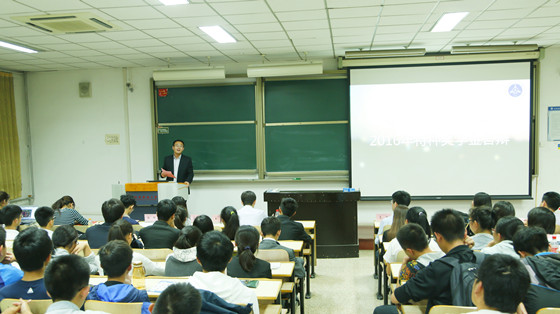 Professor Zhang Yi teacher humorously summarized these points in a way that resonated with the students, prompting the audience to burst into applause. Drawing from the experiences from these outstanding students, may the next generation of students draw strength in their university lives as they pursue their academic objectives!