103th session of China Distinguished Materials Scientists Forum——Report by Academician Mao Xinping
In the 103th session sponsored by China Distinguished Materials Scientists Forum, Mao Xinping, Academician of Chinese Academy of Sciences, was invited to give an academic report entitled "Development and application of green advanced automobile steel with high performance and low cost" in the lecture hall of University of Science and Technology Beijing on the afternoon of November 26th. Present at the lecture were Yang Renshu, President of University of Science and Technology Beijing, well-known scholars and leaders in schools of materials, metallurgy and other disciplines at University of Science and Technology Beijing, as well as nearly 300 teachers and students. With all seats occupied, the animated academic report was presided over by Professor Qiao Lijie.
At the beginning of the forum, Professor Yang Huai, President of the Institute of Advanced Materials and Technology, briefed the speaker, Academician Mao Xinping, who was presented a commemorative forum plaque for Chinese masters by President Yang Renshu.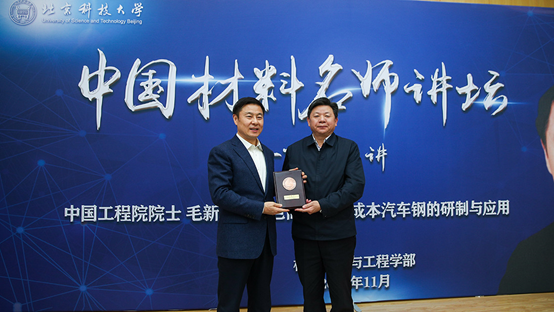 In bursts of applause, Academician Mao made a systematic and in-depth report on the development process and cutting-edge technology of automobile steel plate, focusing on "green", "high performance" and "low cost". He introduced the development background of automobile industry at home and abroad, and the development of China's automobile industry seriously restricted by energy supply. He argues that high- performance, economical, ecological and green materials have become the development trend of automobile materials. In a way of combining theory with practice, he elaborated, on the basis of modern metallurgy and steel rolling technology, the process flow, technical features and product features of thin slab continuous casting and rolling. The report showed us the feasibility of "replacing cooling with heat" and its great contribution to reducing energy consumption. In the report, he illustrated, with cases, the good adaptability of hot formed steel in automobile steel, and also introduced the difficulties ahead for hot formed technology and its application progress.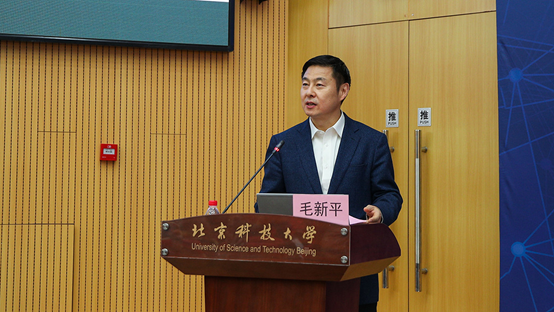 After the report, Academician Mao answered in details the questions raised by the teachers and students. When asked about the current status of domestic automobile steel production in the world, he expressed his great confidence in the production of domestic automobile steel. At present, domestic automobile steel used in the production of many international famous automobile brands has reached advanced world standard. He took this opportunity to encourage the teachers and students present to committed to our current research and development of metal materials, seek greater breakthroughs and innovation, and make our due contributions to the development of advanced materials.
The report came to an end in the warm applause from the students. Academician Mao's wonderful sharing of scientific research benefited the teachers and students present. We believe that more teachers and students will be inspired by Academician Mao to make contributions in their own fields.
Introduction to the speaker:
Mao Xinping is an academician of Chinese Academy of Engineering, Tenured Professor of the University of Science and Technology Beijing, Director of the Collaborative Innovation Center for Steel Generic Technology under National "2011 Plan", member of the Evaluation Committee of the National Award for Scientific and Technological Progress, chairman of the Technological Innovation Alliance for China Marine Materials Industry, Chairman of the Near-Net Shape Manufacturing Technology Branch of the Chinese Society for Metals, and executive director of the Low Alloy Steel Branch of the Chinese Society for Metals. Thanks to his long-term research into advanced steel materials and their preparation technology, he has won three second prizes for National Award for Scientific and Technological Progress, and eight first prizes for Award for Scientific and Technological Progress at provincial and ministerial levels. He has released one English monograph, selected in the National Key Books during the 12th Five Year Plan, and two Chinese monographs, selected in the "three one hundreds" original books listed by the State Press and Publication Administration. He was awarded the National Labor Model, National May 1st Labor Medal, the He Liang He Li Foundation for Scientific and Technological Innovation, Guanghua Engineering Science and Technology Prize for Youth, Wei Shoukun Metallurgy Youth Prize, and the 1st Outstanding Engineer Prize.
(Editor in charge: Yuan Huiting)