Information Session by Queensland University of Technology and China Scholarship Council for Study Abroad Opportunities
On May 23rd, in the Conference Hall of the Library, SMSE – with Dean JIANG Yong in attendance – welcomed guest speakers from Queensland University of Technology (QUT) and the China Scholarship Council (CSC) to discuss study abroad programs available to students.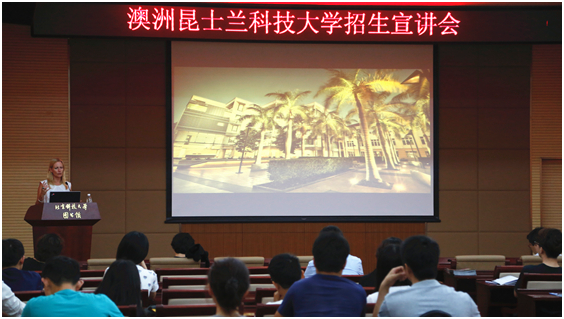 To start off the event, Dean of the QUT Graduate School Helen Klaebe took to the stage and introduced Australia's higher education system as well as QUT in general. Following her introduction, Professor Klaebe focused on the six key disciplines and research areas at QUT, as well scholarship opportunities, pertinent projects and how to contact potential Master's and PhD advisors.
Following Professor Klaebe's presentation, Assistant Manager Angela Luo from the Dongfang International Center for Educational Exchange of the CSC delivered a presentation to introduce the CSC and discuss available scholarship, projects, the application process and other considerations. Prior to this role, Ms. LUO acted as Secretary for the Australian Embassy in China.
At the end of both presentations, students were given the opportunity to ask questions about QUT and the CSC to inquire about general advice and the application process for both opportunities.