First Academic & Cultural Series Session of Inorganic Non-Metallic Materials Successfully Held
At 3 PM on March 30th, the School of MSE held a session of its Academia and Culture series by covering the field of inorganic non-metallic materials. The forum was held in Room 323 of the USTB Main Building, and it was attended by Director of the Department of Inorganic Nonmetallic Materials Professor Cao Wenbin, Lecturer Xia Min, Postdoctoral Fellows Wang Qi and Zhu Lifeng, Dr. Zhao Lina and Dr. Yan Mingwei. At the event, the speakers focused on the theme of "Environment and Energy" and shared relevant research and the practical application of the discussed fields.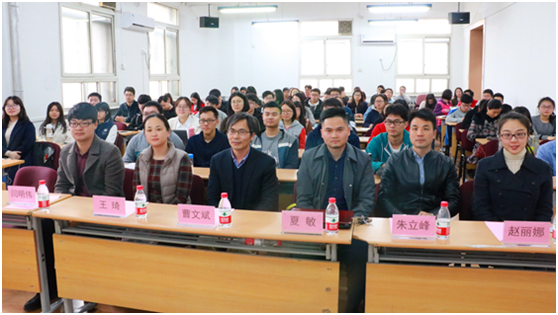 First, Xia Min gave a presentation titled "Powder Metallurgy and Advanced Ceramics Research Institute," where they discussed the project's main research direction, before Xia making the case that controlled nuclear fusion was a solution for China's energy needs and the role this technology plays in achieving low-carbon high-speed train travel, with research efforts currently entering a trial period. Xia then discussed his studies on mesoporous carbon nanotubes, air purification, heavy metal ion adsorption, pesticide residue adsorption, and other related fields.
Wang Qi then gave the presentation on the "New Inorganic Functional Materials Research Laboratory," including the laboratory's objectives, the research direction of photocatalytic materials, cement refractory materials, electromagnetic wave absorbing materials, and new environmentally-friendly inorganic pigments. Afterwards Wang shared a wealth of laboratory resources to the students, telling them that this was a place of scientific research and where intellectual curiosity was encouraged, something which earned Wang the students' fervent applause.
Next, Zhu Lifeng introduced their research field, including the equipment and achievements of the "Functional Ceramics and Device Research Laboratory." The research group has three main areas of focus: photocatalysis, piezoelectricity and thermoelectricity. For their part, photocatalytic materials can help solve environmental problems such as water pollution and air pollution. Meanwhile, piezoelectric materials are widely used in sensor components. Finally, thermoelectric materials can realize the conversion of thermal energy and electric energy. As Zhu finished his speech, they concluded that all three fields have good research prospects.

On their end, Zhao Lina presented on the research direction of the "New Energy Materials Research Laboratory," which focuses on the development of energy storage materials, lithium-ion batteries and operating principles of fuel cells (including their application). Following Zhao, Yan Mingwei shared their research direction, developments and achievements in the presentation of "Inorganic Nonmetallic Materials Research Laboratory."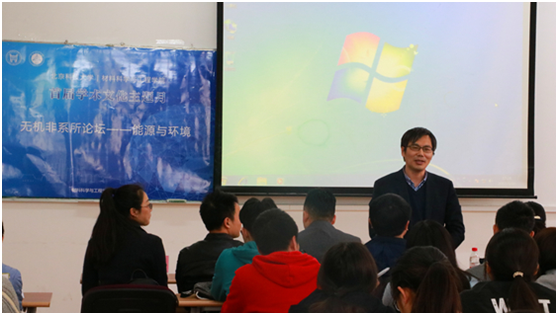 At the end of the forum, Can Wenbin delivered his closing statements. He expressed gratitude to the speakers of the forum and pointed out that the study of inorganic nonmetallic materials was closely related to the field of energy. Professors and researchers were working hard to optimize the production of new technology and subsequently have a positive environmental impact, and so he urged students in the audience to learn the basic structure of materials and master the development of new technology through in-depth study and valuable scientific research.
The forum was held to introduce students of the College of Materials to scientific research, career prospects, and research potential and challenges, as we as to stimulate their interest in USTB's research groups. By strengthening students' appreciation of research work, they will be emboldened to explore new research directions and help support a positive academic atmosphere, thus producing quality work not only in the field of inorganic non-metallic materials, but in many other relevant inter-disciplinary fields.